Zoysia grasses are a sod-forming perennial species that possess both stolons and rhizomes. The grasses turn brown after the first hard frost and are among the first warm season grasses to green up in the spring.

Floratam St. Augustine grass was released in the early 1970s by the Florida and Texas Agricultural Experiment Stations as a SOD virus and chinchbug resistant turfgrass (hence the name FLORada and TexasAM). Since then, these resistant qualities have weakened and chinchbugs are now a major problem for Floratam.

Seville is considered a dwarf cultivar that is a much finer textured grass than Floratam. Seville is blue-green in color with excellent color retention. Seville tolerates salt, shade, and drought well. Its leaf blade gives it a unique appearance preferred by many homeowners. It is considered one of the most shade tolerant turf grass among the St Augustine grasses. It can tolerate wide pH ranges, from the acidic soils often found inland to the high pH soils of the coastal areas.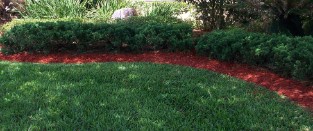 Bahiagrass forms an extensive, deep root system. It sustains better than other grasses in infertile, sandy soils and does not require high inputs of water or fertilizer. This makes it a good choice for home sites on large lots or acreage or for anywhere that there is no irrigation system. Bahiagrass prefers acidic soils, such as those found in the central area of much of the state. It does not form excessive thatch. Bahiagrass can reseed itself from the seed heads that it produces, especially during the long days of summer It has relatively few disease and insect problems.